Depending on the size and type of restaurant you operate, you may not need every item listed. Or, you may need other types of equipment more specific to your establishments, such as a tortilla maker or bread maker. Make sure you are considering every aspect of your kitchen layout and menu plan when developing your restaurant equipment list. 
The Most Popular Commercial Kitchen Equipment 
Range
A kitchen range is a must for all commercial kitchens. The range is the centerpiece of the kitchen layout. Therefore, make sure you find one that meets your specific cooking needs. Commercial ranges come in gas and electric varieties. If you want a more visual cooking experience, gas is the way to go.
A gas range is easier to judge the heat levels. You can change from high to low much easier than you can with an electric range. 
Although, electric ranges are easier to clean and tend to have smoother and more elegant designs.
Ventilation Hoods
No matter what type of range you opt for, make sure you have the proper ventilation system to support it. Range hoods, which sit directly on top of stoves and broilers, use powerful fans to suction grease, heat, and moisture through filters and out of the kitchen. These hoods can be custom-built for any appliance and location. 
Oven
Most ranges sold for restaurant use will also come fitted with an oven. If your operation sells primarily baked goods, you might want to invest in a range with a convection oven attached. Unlike standard ovens, convection ovens have an exhaust system that blows heated air over the food. These ovens are ideal for roasting foods, dehydrating, and making pies.
For foods that are made from batter, a regular oven should do the trick. 
Deep Fryer
A deep fryer can be used to heat fats and oils and are ideal for making French fries and other fried foods. The cooking appliances come in a range of sizes and with optional features like timing mechanisms and oil draining capabilities for easier cleaning.  
Commercial Mixer 
If your establishment bakes bread or desserts, a commercial mixer is a critical purchase. Think about the volume of baked items you produce each day to help you determine the size of the mixer you need. Spiral mixers are ideal for restaurants that mix dense doughs like pizzas and bagels. These high-speed mixing devices can handle fifty to six hundred pounds of dough at a time. 
For other types of mixing, a planetary mixer might do the trick. This mixer gets its name by the way the mixing bowl rotates around the agitator. They usually have lower mixing speeds than the spiral mixers, but you can make a lot of different foods with them, such as whipped cream and mashed potatoes. You can find mixers of all sizes, from ones that fit on the countertop to mega-mixers that stand upright.
Food Processor
There are four different types of food processors that you can choose from. A batch bowl processor collects food as it's being processed. The devices hold between one and six quarts of chopped food, but they can also come in larger sizes. 
Continuous feed food processors let you add food while it's running. The food is then dispensed into a separate container, which means you don't have to continually clean the container while it's running. These processors can minimize food preparation times when processing large quantities of food, making them a terrific option for commercial kitchens of all types.
Then there are buffalo choppers, which are heavy-duty, all-metal food processors that are capable of chopping veggies, meats, and a variety of other foods.
Finally, you have your combination processors, which mix together properties of batch bowl and continuous feed food processing units. 
Reach-In and/or Walk-In Cooler
Without a refrigerator, your restaurant won't be able to keep foods fresh and safe for human consumption. Look for industrial-grade refrigeration units that are designed for your specific type of restaurant and that meet the unique needs of the food industry. For instance, some fridges have space and the ability to cool large amounts of sauce quickly. Taking the time to find the right reach-in or walk-in coolers can do wonders for efficiency and food quality.
Walk-In Freezer
A walk-in freezer is critical for inventory management. Beef, chicken, even swordfish will need to be frozen when not in immediate use. It is much more cost-effective to buy food in bulk, then freeze it, as opposed to buying small amounts each day. Just like walk-in coolers, spend time looking for the most energy-efficient walk-in freezer that is spacious enough to accommodate your needs. 
Ice Machine 
No restaurant is quite complete without an ice machine. How else are you going to keep your drinks cold on a significant scale? Your ice machine is responsible for making ice on a constant basis. That means that it must be ready to use and serve at all times. The ice can be dispensed into an ice bin or directly into your soda fountains, depending on the brands you buy.
Ice machines can also be used to make blended drinks like margaritas, slushies, and smoothies.
Slicers
Slicers are used to cut meats and cheeses with precision. If you prepare a lot of sandwiches and other items that need to be sliced, consider investing in an electric slicer, which will make the job much easier. A manual slicer can work for low-volume slicing, however. Of course, many electric slicers give you the option of turning the automation off, letting you use it as a manual slicer. 
Cutting Boards
Cutting boards are essential for restaurants of all types and come in a variety of sizes. Some are made of plastic and others are made of wood. Plastic boards are easier to clean, but they can become scarred by deep grooves that can become breeding grounds for bacteria.
Wooden cutting boards are tougher to clean than plastic but stand up to sharp objects better without all the bacteria-rich grooves.
Make sure you color-code your cutting boards or develop some kind of system so that you don't cross-contaminate. Many kitchens use a system where red stands for meat, yellow for chicken, blue for fish, and green for veggies. 
Food Preparation Counters
In addition to cutting boards, we recommend stainless steel food preparation surfaces. Stainless steel guards against corrosion and prevents the absorption of bacteria from meat juices and other foods. Stainless steel cutting boards can also withstand many heavy-duty cleaning products. 
Some stainless-steel counters come with small refrigerators underneath, giving you easy access to the food you need to prepare at each station. Some also have refrigeration units on the counter itself. 
Plastic Inserts for Coolers
Here we are talking about good sealable storage containers. Make sure you get the sizes you need and that you have plenty of tape and Sharpies available for labeling food items that will eventually expire. 
While you're at it, you will want to make sure you have adequate storage racks and shelving in your walk-ins to accommodate your storage containers. The idea is to keep your operations efficient so that food items can be found at a moment's notice, no matter how busy your kitchen gets.
Steam Table
A steam table will keep sauces and prepared food items warm throughout the day. They use heated water to keep food at the proper temperatures. The foods themselves are kept in metal containers and can remain at safe edible levels for several hours at a time.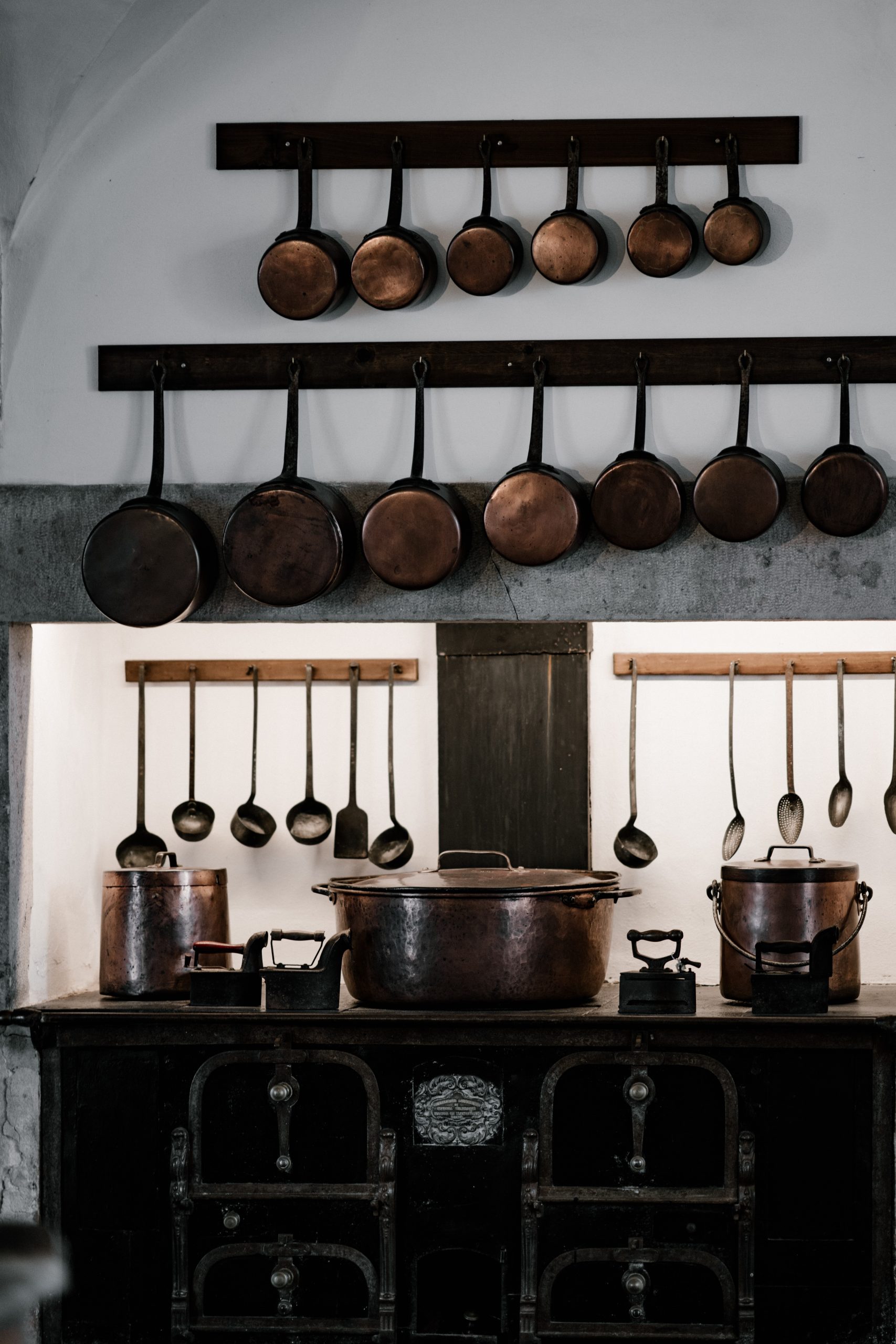 Sinks
Sinks are vital to a commercial kitchen because they provide spaces for cleaning dishes, handwashing, and defrosting meat, and other uses. Local health and safety regulations recommend that you have a triple-sink wash station and dishwashing machine, as well as a dedicated sink for handwashing. 
Dishwasher 
A three-stage commercial dishwasher can effectively clean your tools and dishes in minutes. These heavy-duty machines reduce the labor time it would take to wash each dish and utensil by hand. You can find a variety of makes and models of dishwashers on the market and each comes with its own levels of size and affordability. Make sure you buy a dishwashing unit that is large enough to handle the volume of dishes you will need during your busiest shifts.
POS System
A point of sale system helps you track all of the orders and transactions that take place day-to-day in your restaurant. Your wait staff can input customer orders into the POS terminals where they will be received by the kitchen staff for fast and efficient service. Since all meals are accounted for, there is less waste, and mistakes are kept to a minimum. 
You will also need a POS printer, which prints off tickets for kitchen staff to use for each meal order. The printer also works for creating bills and receipts for customers. Ideally, you will have several terminals and printers located at strategic areas throughout your restaurant. 
Safety Equipment 
Health and safety regulations exist to protect employees and customers from hazardous conditions. As a restaurant owner or manager, you have a responsibility to provide a safe and comfortable atmosphere that is perfect for enjoying a meal or drink. You can do this by stocking up on items that keep your staff and premises safe, like security cameras, wet floor signs, fire extinguishers, oven mitts, aprons, and goggles.
Smallware and Linens 
You may be focused on all the large items you are forced to buy when stocking a restaurant, but don't forget about the malware. These little items can quickly add to your expense. By being aware of all the items you need, you can budget accordingly. Smallware means getting stock and saucepans, sauté and frying pans, sheet, and roasting pans, chefs' knives, hand tools like spatulas and spoons, as well as cake or pie tins.
In addition to malware, you should also stock up on linens. Your kitchen staff will need towels and rags to clean with and prevent injuries from handling hot equipment. A separate set of linens should be used by the back of the house to clean spills and prevent slips and falls.
Janitorial Equipment 
A clean restaurant is a popular restaurant. You can ensure every area of your restaurant is customer-ready by ensuring you stock up on all necessary janitorial equipment. Cleaning supplies to invest in include foodservice chemicals and sanitizers, trash cans and recycling bins, mops and mop buckets, and wet floor signs. You might also want to stock up on scrubbers, sponges, restroom supplies, brooms, and dustpans, as well as cleaning chemical buckets. 
Rubber Floor Mats
Rubber mats are required for any commercial kitchen to prevent dangerous slips and falls. Not only do rubber mats make your restaurant safer, but they are more comfortable to stand on during busy shifts than standard tile flooring.
Grease Trap
Every restaurant produces grease, there are no two ways around it. You need a way to capture all that grease before it backs into the sewer or creates a deadly fire hazard. A grease trap stores leftover grease and prevents it from clogging your drains or backing up into the local sewer system. Choose a grease trap that fits with the volume you plan to produce and make sure you schedule regular cleaning to keep the trap clean.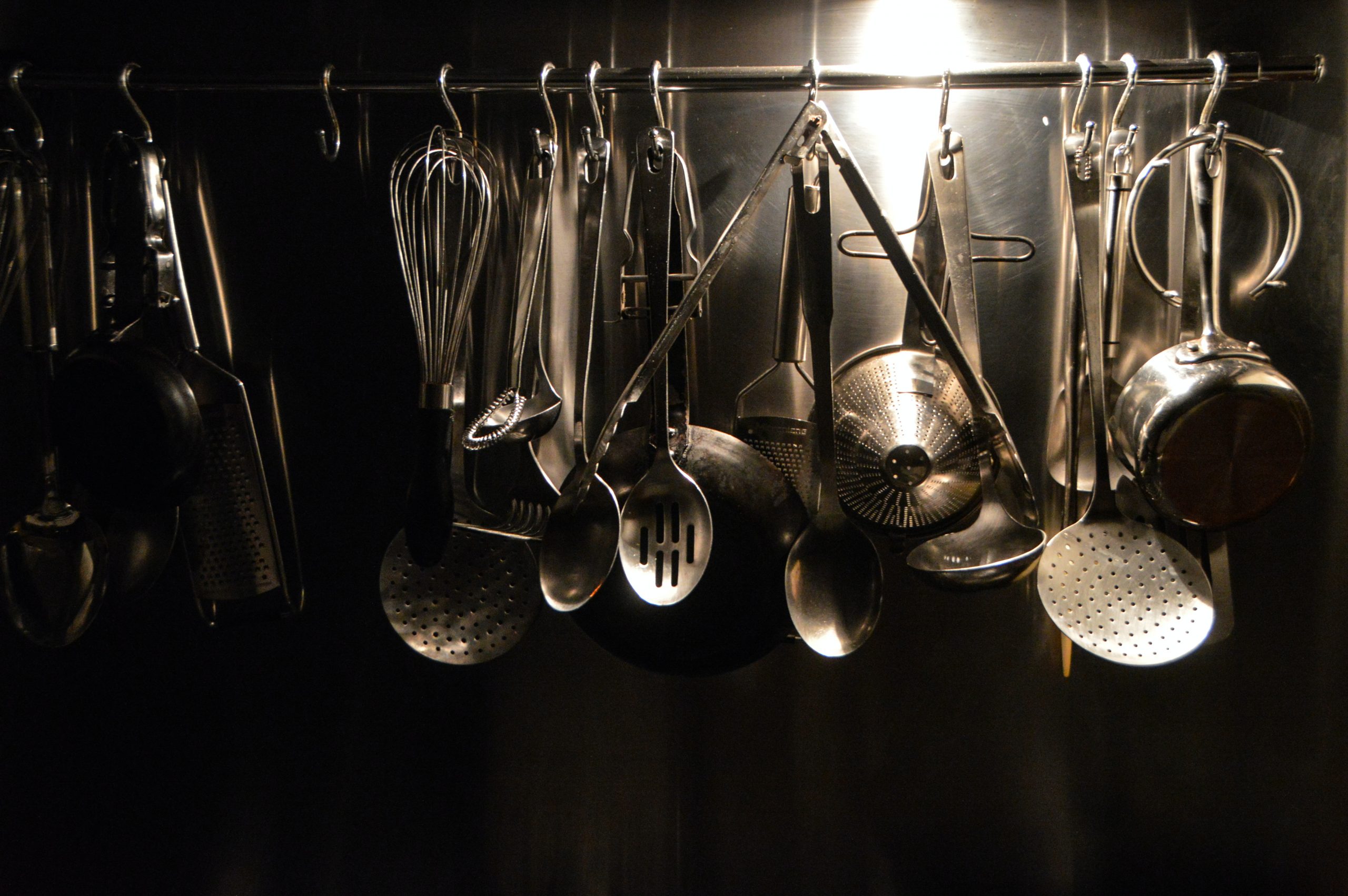 The Importance of Having the Right Kitchen Equipment 
It doesn't matter what type of restaurant you own or operate; you need the right equipment to prepare your delicious offerings. The proper equipment can also keep your food and restaurant safe and help to keep your entire establishment clean. Before buying the equipment, you need, it helps to come up with a customized plan based on your specific operations. 
Need Help Coming Up with Your Kitchen Equipment Checklist?
Call on Hoodbuilder, now serving restaurants in Denver, Colorado, when you want kitchen equipment that's made to last. We serve small mom and pop operations and large chain restaurants, and every type of restaurant or commercial kitchen business in between. 
We can help you stock up on the very best Restaurant equipment for your needs and budget. Call Hoodbuilder today for a free quote.