Ventilation is an important issue for every restaurant. In a commercial restaurant, there are many areas that also need safety from different kinds of hazards at all times. If you are a restaurant owner, the responsibility of keeping your employees and customers safe is something you can never ignore.
A large restaurant is a hub of activities – food preparation, food serving, collecting pots, cleaning, unloading equipment, etc. A busy restaurant also receives a lot of customers throughout its hours of operation. To keep the restaurant business growing and everyone inside it safe, you should make sure that the distinct areas of the restaurant are free from safety hazards and odor. Customers will stop visiting a restaurant that is smelly. Fumes created by the cooking processes in the kitchen will make it difficult for the employees to work efficiently.
Therefore, it is crucial that your restaurant is fitted with a good HVAC system for proper ventilation and indoor comfort.
What is an HVAC System?
An HVAC system is comprised of multiple components all of which work together to keep a restaurant or any other large environment well-ventilated. Designed by experts, the heating, ventilation, and air-conditioning system function on the principles of heat transfer and thermodynamics.
Installation of the HVAC system is mandatory by law in places where the temperature and the humidity should not exceed a specific limit. You must have come across these critical systems installed at the top of large office buildings, residential complexes, and business establishments. Just like the set up of a heating and air-conditioning system is crucial in other large places, it is also extremely important in large or commercial restaurants and kitchens. There are different types of HVAC systems to match the varying needs of large buildings and restaurants.
Basically, an HVAC system is designed in a way that can either heat or cools a place as per the weather requirements. Key components that make up this system include an expansion valve, an evaporator, a compressor, a condenser, and a receiver drier. Depending on the function the system needs to perform in a place, they can be customized to suit specific needs.
Restaurant HVAC System Installation
For your restaurant business to thrive, you need to keep your restaurant fitted with all the essential appliances, equipment, and systems. Among these, the HVAC system is the most critical to your day-to-day operation. If you are planning to get new heating, air conditioning, and ventilation system installed in your restaurant, you should only work with a professional HVAC system contractor. This will ensure that you get the project completed without any errors and on time.
If you are new to the HVAC system installation, it's a good idea to make yourself familiar with the key steps of the process.
System Size Calculation:
Before the HVAC system is installed in your restaurant kitchen, the targeted area has to be measured. A professional contractor inspects the space where you want the installation to be placed and then calculates the size of the system properly to fit specific needs.
New Ductwork Installation:
If your restaurant's air-conditioning needs an upgrade, the contractor will examine the old ductwork for proficiency. Depending on its condition, the existing ductwork may need to be replaced in part. In the case of fairly recent ductwork, some minor repairs are all you need. Next, the contractor will seal and insulate the ductwork so that there's no leakage anywhere.
Airflow Adjustment:
Each air-conditioner comes with its specifications for airflow. It's the responsibility of the HVAC contractor to pick the right specifications, as required by your commercial kitchen. The contractor will test each distinct section of your restaurant to ensure the cooling is uniform all over. Airflow adjustment is a critical task and can only be accomplished by experts.
Refrigerant Level Verification:
High cooling costs are a big concern for anyone who is running a commercial restaurant. This often happens because the level of refrigerant is set below the prescribed level. So, before the air-conditioning system is turned on, the HVAC contractor will conduct verification and make sure that the refrigerant is charged to an adequate level.
The installation of the restaurant kitchen HVAC should always be done by a professional contractor who has several years of experience. If it's not done properly or there are errors, you can face multiple problems. Incorrect HVAC installation will increase the energy cost, first of all. Getting the HVAC system repaired can be expensive. Or else, you may need to replace the entire restaurant air-conditioning system with a new one while losing a lot of money in the process.
HVAC System Challenges for Commercial Kitchen
The kitchen is the backbone of a restaurant. The kitchen is where the food is prepared and therefore this is the area where ventilation is needed the most. The ventilation needs vary from one kitchen to another.
High Temperature:
A large kitchen remains packed with a wide variety of appliances to carry out cooking processes. There is other equipment that helps with dishwashing and cleaning. All of this together raise the kitchen temperature to a level which is unsafe for the staff working there. During summers, increased temperatures cause even more trouble, which is simply unbearable. Besides, normal kitchen temperature also has a negative effect on the restaurant's business.
Not keeping the kitchen temperature within the optimum range can reduce the productivity of employees and cause accidents.
Fumes, Smoke, and Grease:
Cooking fills the air in the kitchen with particulate matter from smoke and grease. The suspended particulates make the kitchen atmosphere unhealthy for employees. That's exactly why every state has a set of regulations that have to be followed by restaurants. Installing ventilation hoods helps keep kitchen air uncontaminated from particulates and, therefore, keeps the kitchen staff protected from various types of respiratory ailments.
Fire Suppression:
It's important to keep a commercial kitchen safe from any kind of fire hazards. There are building codes that you need to follow to avoid accidents that can happen due to fire. Installation of a fire suppression system helps you prevent the occurrence of fire and quickly put out the fire in case it happens. The fire suppression system uses an inert gas along with other chemicals that can extinguish the fire before damage is caused. To further minimize the occurrence of fire, you should make sure the ventilation hoods are cleaned on a frequent basis.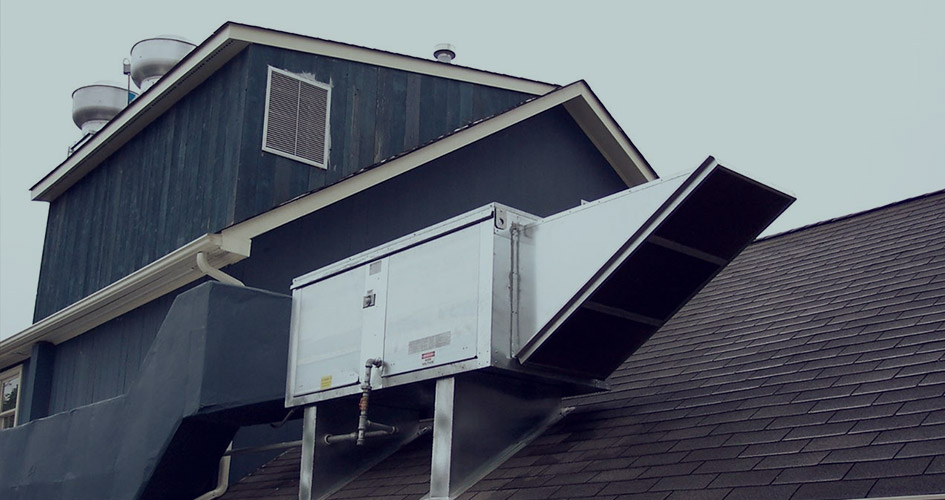 Restaurant Kitchen HVAC System Maintenance
The HVAC system of your restaurant kitchen needs maintenance regularly. If you ignore it, you can expose your appliances and equipment to potential damage while also putting the safety and comfort of your employees and customers at risk. Therefore, you should always keep a close watch on even minor issues and keep your HVAC system free from faults and errors by giving it the necessary maintenance on a regular basis. Most importantly, you should prepare your HVAC system for the best output when the season changes from winter to summer.
Here are some key steps that should be followed to keep the HVAC system fully functional and avoid catastrophic problems:
Mechanical Inspection
First of all, the HVAC system requires an external inspection. Harsh weather conditions can impact the functioning of the mechanical equipment by damaging one or more of its components. Look for signs of damage in the HVAC cabinet, the condenser coils, and the evaporator coils. See if your air conditioning unit has refrigerant leaks and if the airflow is uniform. The coils and filters of the system need frequent cleaning to keep the HVAC system working to its maximum potential.
Electrical Service Panel Inspection
A damaged or worn out wire in the electrical service panel can also cause potential damage to the equipment. Before you start the electrical check, make sure the power has been turned off. It is advisable that you get the electrical service panel inspection done by a professional HVAC contractor. A skilled technician will perform the task using protective equipment. The technician will give the electrical service disconnect a good, thorough check and find out if all the connections are in good shape or need repair. Likewise, the technician will inspect every crucial component of the electrical service panel including the fuse and breakers, and repair the faults before it takes a toll on your HVAC system and other equipment.
Ventilation Check
To ensure proper ventilation, you should check if the outside air filters are doing their job effectively. If the air filters have accumulated dirt, clean them to improve ventilation, and have the HVAC system working efficiently. Unclean air filters strain the HVAC system to work harder to eliminate the heat. This doesn't only increase your energy bills but also paves the path to an untimely failure of the system. By cleaning the air filters, you can enhance ventilation, maintain the efficiency of the HVAC system, and avoid health risks to your employees and customers.
Economizer Inspection
Many modern-day HVAC systems also feature an economizer section, which is there to benefit from free cooling. Depending on the outside weather, the economizer can bring down mechanical cooling to a significant percentage. If you want to reduce the strain on the system and use the cool weather outside to help with cooling inside the restaurant kitchen, you should make sure that each component of the economizer section is well-lubricated and working properly. By taking good care of the economizer, you can cut down your energy costs.
Keeping the HVAC system well-maintained is crucial to the success of your restaurant business. If you plan to not let minor issues turn into major problems, you should have the system inspected on a timely basis. Seek the services of an experienced HVAC system contractor for a regular inspection. This is a highly recommended step that you can take to avoid expensive repairs, reduce energy costs, and create a comfortable atmosphere for your employees and customers.
Restaurant Kitchen HVAC System: Repair vs Replacement
An HVAC system that doesn't function properly needs an inspection without any delay. While you can have an HVAC contractor fix the issues at hand, it's important to know whether you actually need a repair or a replacement. Just getting a repair whereas what you actually need is a new HVAC system can lead to more problems in the future and increase your energy bills as well.
Here's what you need to know to make a well-informed decision:
If you face heating and cooling problems with your HVAC system on a frequent basis, it is because the furnace and the air conditioner are too old. If they are 10-15 years old or more, it's better to go for a new HVAC system than to get it repaired for quick fixes.

If the repair and maintenance are unable to bring down the energy bills and you end up paying more every month, you should definitely replace your existing HVAC system with a new one.

If your Restaurant Kitchen HVAC System has been repaired too many times in the past and still you can't have the desired indoor comfort, you may want to invest in a new HVAC system for your restaurant kitchen.

If you see that the cost of repair is too high and there can be more repairs required in the future, it's a good idea to go ahead and get a brand-new HVAC system installed.
The HVAC system is made up of various components, each of which needs to function smoothly for maximum indoor comfort. If the contactors, the compressor, or the filters don't work properly, you can get them repaired. Regular maintenance is essential to prolong the working life of your restaurant's HVAC system. But you should always think carefully and consider the total cost of repairs. If repairs are frequent and yet the HVAC system doesn't seem to function efficiently, you should decide to replace the existing system with a new one.
Always Work with the Right HVAC System Contractor
Whether you need HVAC maintenance, repair, or replacement, always choose to work with a professional contractor. A contractor who knows his job too well will plan the project in an effective manner, leave no margin for error, and make sure everything is done properly and on time.