Due to fierce competition in the restaurant industry, every commercial kitchen needs to continuously adjust itself to the changing requirements. Whether it is for health and safety or keeping the business efficient and relevant, upgrading the kitchen becomes essential for restaurant owners. The overall layout and design of a commercial kitchen determines the efficiency of day-to-day operations in a restaurant. If you think your current kitchen setup is out of date and is slowing down the commercial operation as a result, it is definitely time for a remodel. An ideal commercial kitchen remodel will speed up the operational efficiency of the facility as well as the entire restaurant while providing employees with a safe and comfortable working environment and guests with an enjoyable dining experience.
At Hood Builder in Denver, CO, we specialize in commercial hood installation, HVAC installation and restaurant design and remodeling services. In this definitive guide, we will help you understand the details of the process behind a commercial kitchen remodel. So, keep on reading!
Key Reasons for a Kitchen Remodel
Let us begin with the most basic question that you have in mind: Why should I consider remodeling my commercial kitchen?
There are several benefits of remodeling an existing kitchen. Some of the key reasons or benefits have already been mentioned in the opening paragraph of this guide. It should be a good idea to delve into this topic so that you can understand all the benefits with a little more clarity. First, a new restaurant kitchen design will improve the workflow. Second, it will upgrade all the cooking appliances and fixtures installed in the facility. Third, the overall remodel will give your restaurant business a fresh and brand-new look to attract more customers to dine.
But that is not all. There are multiple other benefits that remodeling a commercial kitchen will bring. When you choose to remodel your existing kitchen, you make a decision to transform your business.
When you run a restaurant kitchen, one of your key responsibilities is to give the staff a healthy and safe working environment. If your existing kitchen does not use the available space in an effective manner and its set up is not up-to-date, it will ultimately impact the performance of the employees. If you plan to create a better and improved work environment for guests and a better dining experience for guests, you will definitely want to consider a kitchen remodel. During a remodeling project, the team of experts will work to expand the existing space, create an ergonomic work environment, increase the storage areas and add some extra lighting to upgrade the commercial kitchen and maximize the resources.
With an upgrade to the cooking appliances and fixtures, you will be able to make your restaurant kitchen more energy efficient and save a lot of money in the long term as a result. For more details on commercial kitchen redesign, feel free to reach out to one of our experts at Hood Builder.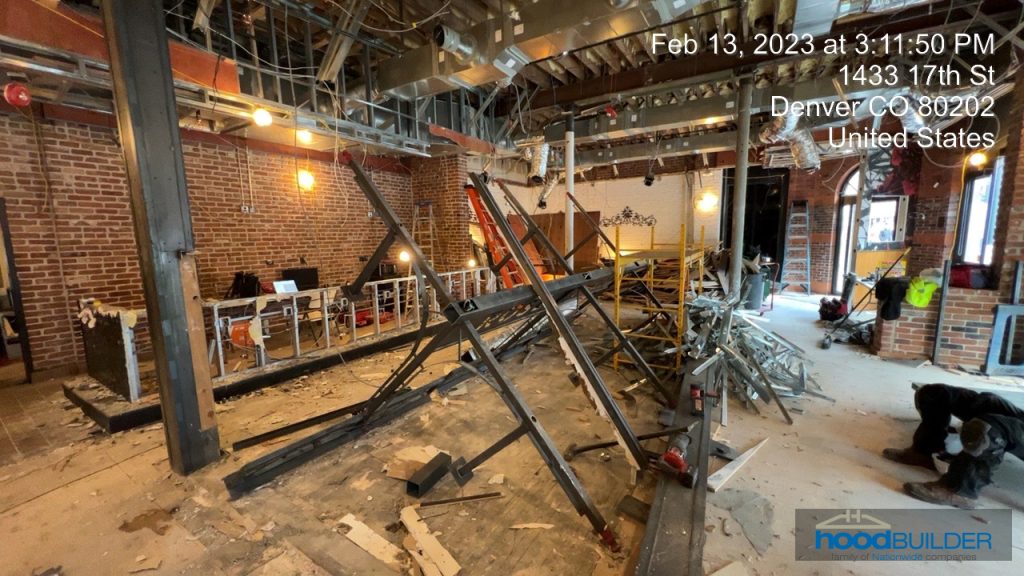 How to Plan for a Commercial Kitchen Remodel
The planning for a commercial kitchen remodel requires a great deal of expertise and several years of experience. It requires consideration and several important factors that control the entire process. Before the actual remodel project starts, the restaurant owner needs to know whether the kitchen will remain operational or will need to be shut down altogether. Most of all, how much time the project will take and what goals it will achieve are crucial questions planning will answer.
That is why the first thing you should define is what goals you are planning to achieve through the remodeling of the kitchen.
Once you have determined the goals, you will find yourself in a better position to choose your budget and timeline for new commercial kitchen construction and redesign in a proper manner. With an experienced restaurant general contractor by your side, the entire planning phase will be carried out in a professional and accurate manner, exactly as per your daily operational needs.
At Hood Builder, we provide commercial kitchen construction services, commercial kitchen redesign and restaurant remodeling services throughout Denver, CO. If you run a restaurant business anywhere in the Denver area, you should feel free to get in touch with our experts and find how we can help you turn your existing kitchen into an up-to-date and ergonomic space. Based on your specific needs, our professionals will develop an ideal plan and implement it with high effectiveness in order to deliver you the most satisfying results within the given timeframe. When the project is completed, you will find a modern, highly functional and extremely efficient kitchen space that will simply transform your business in many ways.
Commercial Kitchen Construction and Redesign: Three Different Approaches for Business Owners to Take
When it comes to commercial kitchen design and restaurant renovation, one of the most crucial things is to know and decide whether your entire business will need to shut down for the project to complete. Most commercial kitchen construction services will present you with three approaches. However, which approach will work best depends on the size and goals of a particular project.
Phased Construction: This approach refers to a process in which the redesign and construction of the commercial kitchen is carried out in multiple small phases rather than in a continuous manner. If you plan to have the minimum amount of disruption to your commercial operations, phased construction is the most suitable option to go for. Using this approach means there will be no requirement for complete shutdown of the restaurant and the commercial kitchen. Since some parts of the kitchen facility will remain in operation during the remodeling or redesigning work, you can still run your business on a day-to-day basis.
Full Shutdown: Based on the specific needs of the remodel project, the restaurant general contracting company may want you to completely shut down your commercial operations. Though this approach requires a great deal of planning, the approach can reduce the timeframe for the project.
Temporary Commercial Kitchen: In many cases, the best idea would be to set up a temporary kitchen in order for the commercial operations to continue uninterruptedly. The short-term kitchen can be set up in any other area of the restaurant facility. In this way, you will not need to disrupt your commercial operations or shut down the operations completely. The restaurant remodeling will be carried out in the primary space of your kitchen.
Setting up a temporary commercial kitchen will need some additional investment, but it will be worth the money and time.
Before the construction services of your new commercial kitchen begin, you should sit and talk to experts you hire for the job. After an assessment of your specific needs, the professionals will develop a perfect plan to carry out the renovation work. You can choose any of these three approaches as per the requirements of your day-to-day commercial operations.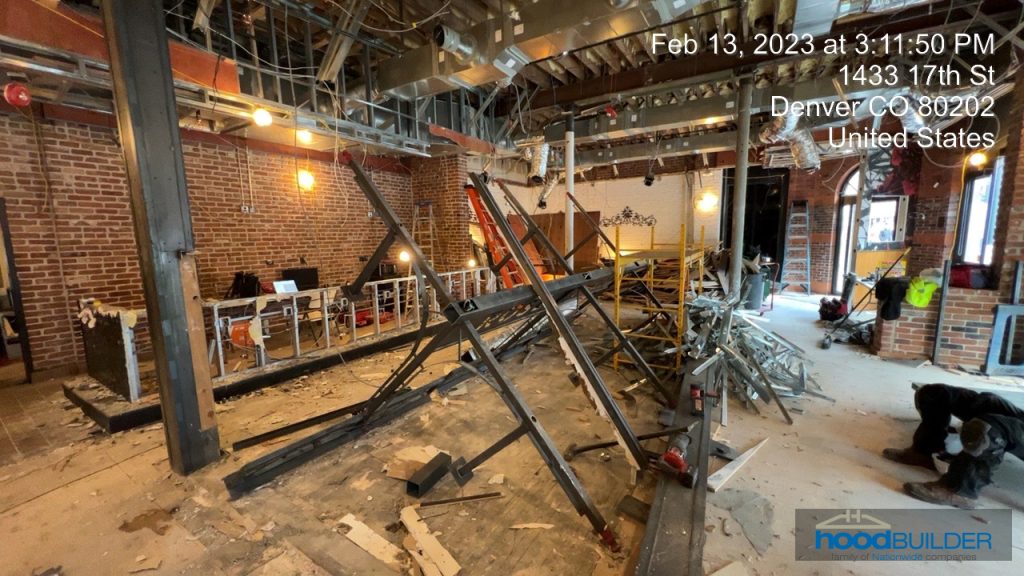 How Much Time Does it Take to Remodel a Commercial Kitchen?
Planning is essential for remodeling a restaurant kitchen. If proper planning is done ahead of time, the project will carry on and get completed in a smooth manner. The time taken to accomplish the project will depend on several factors including the scope and size of the project and availability of all the supplies and raw materials. First, restaurant general contractors will remove the old cooking appliances and fixtures before the installation of the new cabinets.
At least one week will be required to remove all the old appliances and fixtures from the commercial kitchen. Then, professionals will begin installing the new cabinets and countertops. This installation can take up 5-6 days. After this, it will be time for experts to install the new flooring.
Next, all the new cooking appliances will be installed one after another. Finally, painting work will be carried out in the facility.
A commercial kitchen remodel can take 4-5 weeks or more, based on the size and goals of the project. Before renovation work begins, the professionals will explain every bit of the project for your understanding. You will know when the project will conclude and what to expect while the work is in progress. To find out an exact timeline, you should reach out to one of our restaurant remodeling specialists at Hood Builder, which operates in Denver, Colorado.
Restaurant Renovation: Key Characteristics that Make Up an Ideal Commercial Kitchen
An ideal commercial kitchen has some very useful features. Before you get started with the remodeling of your existing facility, you should clearly define what kind of features or characteristics you want in the new kitchen. Here are some of the key characteristics that an ideal kitchen should have.
Better Use of Commercial Space
Depending on how many employees you have, your facility should have enough space for them to carry out their duties efficiently and comfortably. Most of all, you should make the best use of the available kitchen space. If you plan to increase the strength of staff in the near future, you should plan for the same ahead of time so that no issues arise with day-to-day operations.
Energy-Efficient Appliances
One of the main goals of remodeling a restaurant kitchen is to give an upgrade to the cooking equipment and alliances. In particular, you should aim to replace your old appliances with energy-efficient appliances. With experts by your side, you will be able to invest in the right type of appliances. By using energy-efficient appliances, you will not only minimize your restaurant's carbon footprint, but you will also attract new customers who care for the environment.
Resourcefulness
During the restaurant layout design, the contractor will carry out the installation of new cabinets and countertops to make the kitchen more resourceful. Even when the operating space is not too big, arrangement of the cabinets and countertops in an effective manner will maximize their use.
Adherence to Safety Codes
Many times, the main reason to go for a commercial kitchen redesign is to comply with the safety codes in a proper manner. When it comes to employee safety, you can never take a second chance. If your current set up does not provide a completely safe and comfortable environment for the kitchen staff, you should definitely consider giving your facility an ideal remodel. The project will focus on making the fire suppression systems up-to-date with the latest codes, improve the kitchen ventilation system and the make up air system, HVAC balancing etc.
Easy Maintenance
Maintenance of a commercial kitchen should not be hard. Difficulty arises when the set up is not proper and up-to-date. One of the most important features of a good restaurant kitchen is its easy maintenance. If your existing kitchen takes a lot of effort and time to maintain, giving the facility a remodel will solve this problem. As a result, you will have more time to grow your business.
Before the renovation project begins, you should know and define your goals with full clarity. Whether it is better working environment, efficient use of available space, making the appliances up-to-date or maximizing resourcefulness, a restaurant renovation can achieve it all. It is just that you should work only with one of the most experienced restaurant general contractors in your area and discuss all your goals and objectives for the project in a complete detail.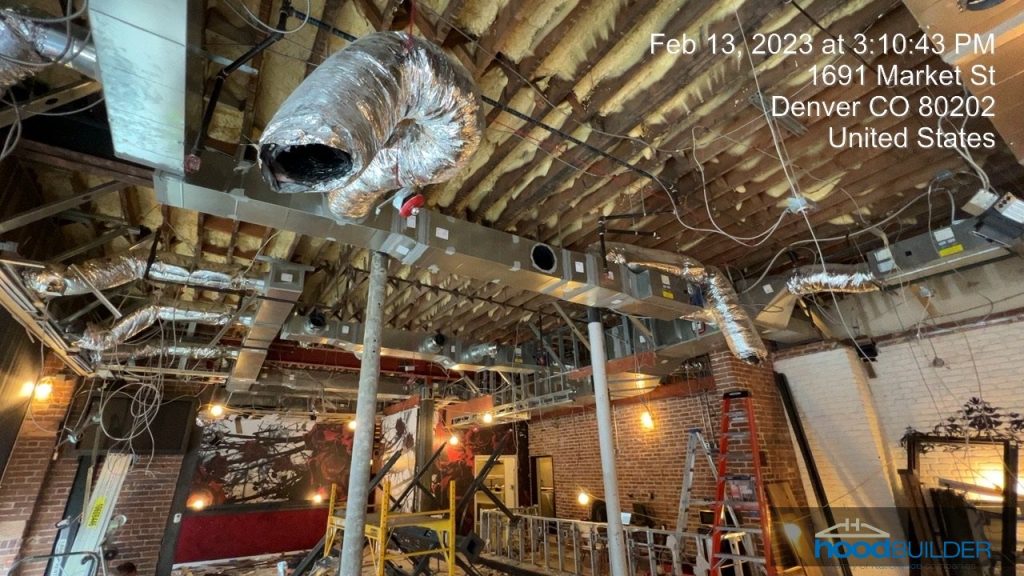 Planning a Restaurant Kitchen Remodel?
At Hood Builder, we specialize in restaurant services including restaurant remodeling, commercial kitchen design, commercial kitchen hood installation, fire protection installation etc. If you plan to upgrade your existing kitchen, head straight to Hood Builder in Denver, CO. Our team consists of highly experienced and qualified interior designers, fire protection specialists and engineers. Our redesign project will focus on turning your commercial kitchen into a highly functional, efficient restaurant facility that is up-to-date with the latest codes. Most of all, the newly designed kitchen will meet all the specific needs of your day-to-day commercial operation so that you can grow and take your business to the next level.
For your free consultation, you can call our Denver office phone number or write us an email using the contact form.
Apart from Hood Builder, we operate two more companies namely APS Hoods and Nationwide Fire Protection to provide complementary services to restaurants all over Denver. For your free consultation, you can give our office a quick phone call or write us an email using the enquiry form.