Every restaurant feels the need for a remodeling or upgrade after a certain time. If you plan to attract customers on a regular basis, you have got to mainly focus on two things: delicious food and great ambiance. That is why you should always see to it that you are providing your guests with a wonderful dining experience that is hard to forget. If you have been struggling to get more costumes even after serving toothsome delicacies, you should consider a restaurant remodel. However, remodeling or giving a restaurant the much-needed upgrade is not an easy feat. Provided the remodeling project is planned and done right, you can stay relevant in the industry, stand out, improve your business image and boost your bottom line. 
If you are in search of some of the most useful tips about giving your restaurant a fresh and new look to improve business, this article is aimed at you. So, let us discuss the procedure of renovating a restaurant.
Planning Your Remodel or Upgrade
Planning is the first essential stage for a restaurant renovation. You should begin with creating a floor plan while matching it to your restaurant's vision and functionality. This is where you will need to analyze what your competitors are doing or how they have remodeled their restaurants.
A lot of research will be required in order to develop an ideal plan that is a perfect match for what you are looking to achieve. You will need to talk to peers and take the specific needs of your customers into account. For proper planning, you will need to seek the help of professionals who specialize in restaurant remodels. Trained and experienced professionals will first assess your goals and objects and then develop a plan to help you fulfill them. While creating the plan, experts will always focus on keeping the core concept of your business intact.
Planning restaurant upgrades involves:
Defining goals and objectives
Setting a budget
Selecting the right designers and architects
Getting necessary permits and approvals
Prioritizing the crucial issues
When it comes to a restaurant renovation, most of the focus often remains on the aesthetics. However, it is important not to ignore or forget about the critical issues you may have in your restaurant. For example, issues such as kitchen sink leaking or basin leaking should be given attention first. Once you are done addressing the critical issues, you can move on to other design remodels. Professionals follow the same approach and take care of critical issues first.
You will come across fierce competition in the restaurant space. When it comes to planning restaurant renovation and construction, you should rely only on experts such as those from Hood Builder in Denver, CO. Our company specializes in restaurant remodeling, equipment upgrades for restaurants, staff training for restaurant upgrades and restaurant construction among others.
Design and Layout Considerations
After the planning phase is complete, it is time for developing the restaurant design and layout. Whether it is a commercial kitchen set up or the dining space layout, each and every part needs to be designed in a proper manner so as to make it easy for the staff to work and move and for the guests to enter and exit without any kind of hassle at all. Designers and architects will analyze and assess all your needs and come up with a layout that makes the best use of space.
The appearance of your restaurant is tied to your business image. The overall look and feel of your restaurant should make customers happy and set you apart in the midst of all the cut-throat competition.
From interiors and exteriors and the commercial kitchen area to entrances, exits and restrooms, experts will focus on maximizing functionality in every area of the eatery or diner. A good restaurant design will also include what kind of equipment will be needed for prepping, cooking and serving food. On the one hand, the right design and layout will improve the aesthetics of your restaurant and maximize the use of space. On the other hand, it will take the customer experience to the next level and help you attract more visitors to your restaurant. One of the most important parts of a restaurant interior design is the use of new technologies in order to make the everyday operations and the use of space faster and easier.
Equipment Upgrades
A commercial kitchen is the central part of a restaurant. When it comes to restaurant renovation, one essential thing to remember is the upgrade of the cooking equipment and machinery in the commercial kitchen.
The needs of a commercial kitchen do not remain the same. Over time, you will feel the requirements for change. Unless you address these changes and demands that emerge with time, you will not be able to keep pace and your business will suffer. The fact is when the cooking equipment is right and well-organized, less time will be wasted in completing the day-to-day tasks. The best idea is to consult with specialists and find out what equipment you need to install. With professionals by your side, you will find it easy to select quality cooking equipment, machinery and appliances for the much-needed upgrade in your commercial kitchen.
You may need to upgrade the following equipment:
Commercial cooking equipment
Coffee and beverage machines
Commercial ovens
Industrial dishwashers
Commercial kitchen workstations
Commercial ice machines
Industrial sinks
Commercial food storage equipment
Commercial refrigeration system
At Hood Builder, we have a solid team of highly trained and experienced professionals to carry out the equipment installation in a smooth and efficient manner. Talk to one of our experts in Denver, CO.
Staff Training and Education
While you get your restaurant renovations done, you should make sure that you staff receives proper training in order to make the best use of all the newly installed kitchen equipment such as cooking equipment, coffee and beverage equipment, commercial ovens, commercial dishwashers, industrial kitchen work stations, commercial ice machines, storage, industrial refrigeration etc. Getting your staff trained and educated means the day-to-day operations will be done in a smooth manner and work efficiency and service speed will improve.
Just like you develop a plan for restaurant remodeling and upgrade, you should also create a plan for proper staff training. In fact, specific procedures should be set up so as to carry out the training programs without any kind of hassle or delay. You can do this with the help of professional trainers.
Most of all, you need to train the staff in the use of the latest technology that you incorporate into your restaurant and commercial kitchen. Training materials should include images, videos, podcasts etc. The training sessions have to be interactive so that staff can understand and learn fast. Getting the staff involved in roleplay is a best practice for training and education. If you have a question in this regard, feel free to talk to one of our experts at Hood Builder.
Managing the Construction Process
The construction and renovation of a restaurant is a long, complex process. It involves getting a good team in place, hiring expertly trained technicians and obtaining all the necessary permits. The construction team will include electrical, mechanical and structural experts to carry out the respective tasks. Although you will come across many restaurant construction contractors, you should choose to work with only those who have ample experience in this area. 
Experienced restaurant building contractors carry out the entire project in a proper and timely manner. They will develop the construction and renovation plan while taking your specific needs into account. Most of all, professionals will complete the project with the least disruption to your business.
For a restaurant construction project to be successful, it is crucial to follow all the building and regulatory codes in a strict manner. That is what restaurant architects and designers do. These professionals work through all the various stages of the project while complying to all applicable codes. Right from the initial conceptions till completion, these architects see to it that the entire construction project is completed without any kind of hassle or issues at all. The biggest benefit of hiring an experienced contractor is that you will not have to worry about finding and getting in touch with multiple vendors to purchase all the construction materials.
A crucial part of the restaurant remodel and construction project is to understand the utility requirements, which include electrical power, water supply, gas service, HVAC system, exhaust hoods, fire suppression system etc. The construction team will include all these utilities into the overall plan. If you are in search of a general contractor who specializes in restaurant construction and design, head straight to Hood Builder, which operates and serves in Denver, CO.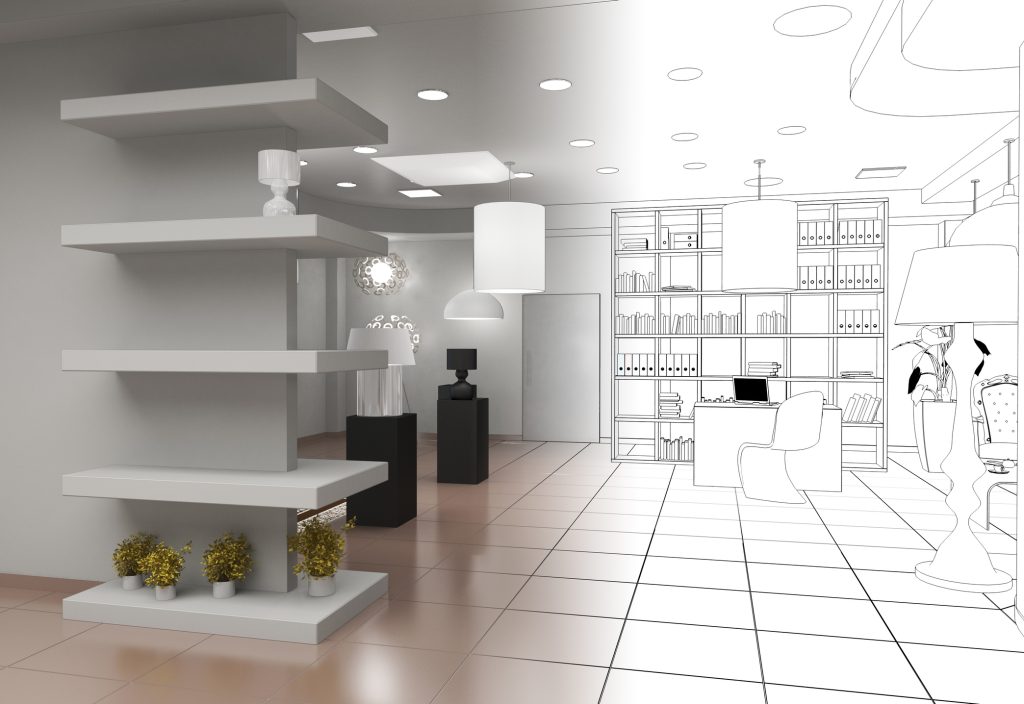 Post-Upgrade Marketing and Promotion
A lot of time and effort goes into completing a restaurant renovation project. After your restaurant has got a new and improved decor and a fresh ambiance, it is time to let your customers and prospects know about it. That is exactly where the need for marketing and promotion arises.
There are multiple ways to advertise your restaurant post-renovation. You can design and run social media campaigns in order to let people know about the newly renovated space you have. You should talk about this on your social media profiles and pages to reach out to more people. To get the word out quickly, you can also organize giveaways via different channels. Effective marketing and advertising are crucial to get the world talking about your renovated eatery. If you need more details on how to market your restaurant after a remodel, reach out to Hood Builder in Denver, CO. Our experts will explain everything in complete detail.
Always Rely on the Right Architect, Designer or Contractor
Renovating a restaurant is a project that requires a solid team of highly experienced and trained professionals. The team will include architects, designers, electrical engineers, HVAC system specialists etc. That is why you should not just hire anyone you come across with. Instead, you should work with a company or service provider that has already worked on similar projects.
To choose the right contractor for the job, you should be very clear on what exactly you plan to achieve and then be ready to ask some important questions. Asking for past references is always a good idea to check on and choose the right restaurant general contracting service for your needs. Experienced contractors will have their own websites with a list of all the services they specialize in. It is a good idea to check out online reviews to measure their quality of work. Professionals will help you plan each and every detail of the restaurant upgrade. Even if you have some vague ideas but don't have much clarity on the same or are not sure how to build upon those ideas, you can discuss these topics with the experts.
Working with the right construction team means the job will be done right first time with no risk of any kind of issues arising later. Experienced contractors will consider all the important factors and align the plan with your goals and objects in a proper manner to help you achieve business growth.
Still Have a Question?
Successful remodeling of a restaurant requires the assistance of experts. Right from developing a floor plan and lighting the plan with your vision to setting up the budget and prioritizing the critical issues, professionals will plan and carry out every phase of the project in an accurate manner. At Hood Builder in Denver, CO, we provide restaurant services including restaurant remodels, restaurant design and layout, cooking equipment upgrades, staff training, post-upgrade marketing etc. If you still have a question or want to schedule a visit for the refurbishing and upgrade of your restaurant, get in touch with one of our experts.
For your free initial consultation, you should give our office in Denver a phone call or write to us using the contact form.